Moana,
Make way, make way!
Moana, it's time you knew
The village of Motunui is all you need
Consider the coconut
(The what?)
Consider its tree
Each part of the coconut
That's all we need
We make our nets from the fibers (We make our nets from the fibers)
The water is sweet inside (The water is sweet inside)
We use the leaves to build fires (We use the leaves to build fires)
We cook up the meat inside (We cook up the meat inside)
The village believes in us (That's right!)
The village believes
The island gives us what we need
And no one leaves
So here I'll stay
My home, my people beside me
And when I think of tomorrow
There we are
I'll lead the way
I'll have my people to guide me
We'll build our future together
Where you are
Where you are

I've been standing at the edge of the water
Long as I can remember
Never really knowing why
I wish
I could be the perfect daughter
But I come back to the water
No matter how hard I try
Every turn I take
Every trail I track
Every path I make
Every road leads back
To the place I know
Where I cannot go
Where I long to be
See the light where the sky meets the sea
It calls me
No one knows
How far it goes
If the wind in my sail on the sea stays behind me
One day I'll know
How far I'll go

Hey! Open your eyes, let's begin
Yes, it's really me, it's Maui
Breathe it in
I know it's a lot
The hair, the bod!
When you're staring at a demigod
What can I say except you're welcome
For the tides, the sun, the sky
Hey, it's okay, it's okay
You're welcome
Take it away
Kid, honestly I could go on and on
I can explain every natural phenomenon
The tide, the grass, the ground, oh
That was Maui just messing around
I killed an eel
I buried its guts
Sprouted a tree, now you got coconuts
What's the lesson
What is the take-away
Don't mess with Maui when he's on a break away
And the tapestry here on my skin
Is a map of the victories I win
Look where I've been
I make everything happen
Look at that mean mini-Maui just tickety-tappin'
Ha! Ha! Ha! Ha! Ha! Ha! Hey!
Hey, it's your day to say you're welcome (You're welcome)
'Cause I'm gonna need that boat
I'm out (You're welcome)
You're welcome (You're welcome)
You're welcome
And thank you!

Little Maui's having trouble with his look
You little semi-demi-mini-god
Ouch! What a terrible performance
Get the hook (get it?)
You don't swing it like you used to, man
Yet I have to give you credit for my start
And your tattoos on the outside
For just like you I made myself a work of art
I'll never hide
I can't, I'm too... Shiny
Watch me dazzle like a diamond in the rough
Strut my stuff; my stuff is so... Shiny
Send your armies but they'll never be enough
My shell's too tough
Maui man
You can try, try, try
But you can't expect a demi-god
To beat a decapod (look it up)
You will die, die, die
Now it's time for me to take apart
Your aching heart
You'll never be quite as... Shiny
You wish you were nice and...
Shiny

I have crossed the horizon to find you
I know your name
They may have stolen the heart from inside you
But this does not define you
This is not who you are
You know who you are

See her light up the night and the sea
She calls me
Yes, I know that I can go
There's a moon in the sky and the wind is behind me
Soon I'll know
How far I'll go

Aue, aue
Te fenua, te malie
Na heko hakilia
We know the way
Aue, aue, aue!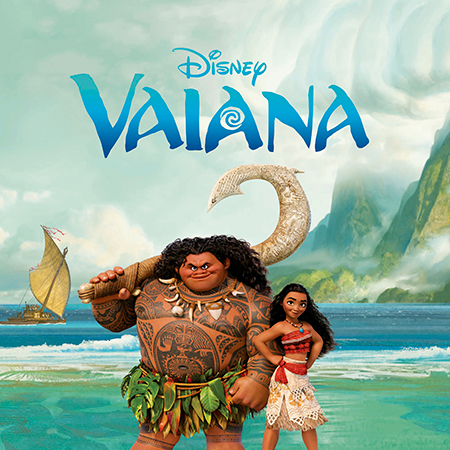 ---
Dessins animés - Infos
Titre Original : Vaina - Medley Youtube
Interprète : VoicePlay Feat. Rachel Potter
---
Fiche ajoutée par aioros22.